Co-Managed IT 
Co-Managed IT Services creates a strategic framework with IT support and comprehensive knowledge so your New Jersey company has access to all its IT needs without having to hire more internal IT staff.
call now
schedule your it plan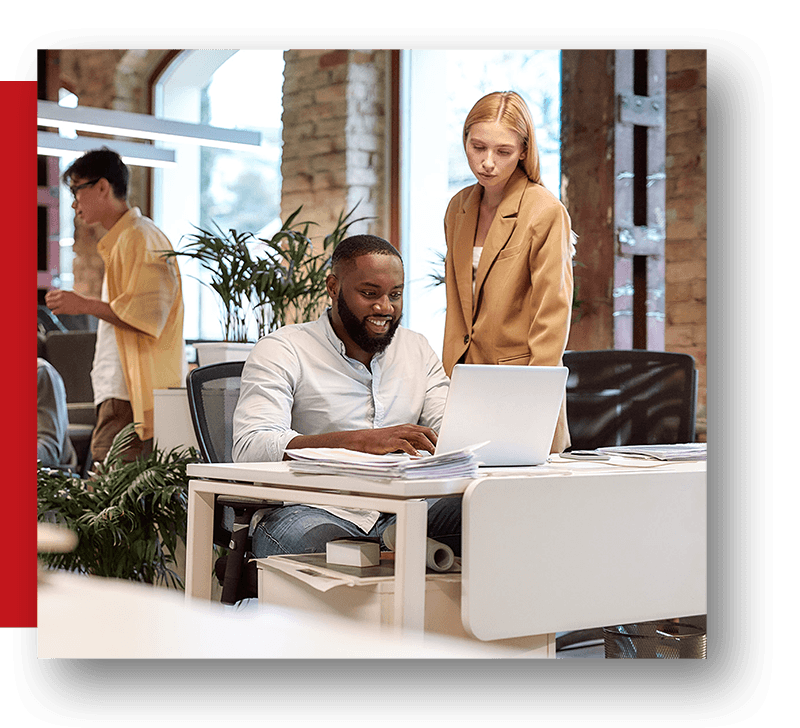 Co-Managed IT Services For New Jersey Organizations
Many businesses in New Jersey are looking for co-managed IT services. Still, few of them really understand what these third-party companies provide to their business. Using co-managed IT services is a popular way to get assistance for your own in-house IT team and build a relationship that empowers them.
As a company scales, its IT needs become more elaborate and complex. Managing IT operations becomes an arduous process, and you shouldn't have to face it alone.
schedule your it plan
What Are Co-Managed IT Services?
Does your IT team voice concerns about too many users to support, and not enough team members to provide the needed resources to your employees? Do they feel like they are regularly under pressure, and have no one to back them up when they need a vacation? Are they trying to wrap their heads around countless tools and unable to keep up with evaluating and implementing new tools as required?
In a nutshell, co-managed IT enables a third-party company to help you offload aspects of your IT operations. Co-Managed Services is an IT operations model that fuses the best parts of an internal IT team's convenience and strategic knowledge with a managed service provider's support and comprehensive tools. 
The key here is that this can be any type of IT task and operation that your in-house IT team feels unable to handle for any reason. That convenience makes this a versatile part of anticipating obstacles and pursuing long-term planning for a New Jersey business of any size.
Suppose you have a major migration project that is beyond what your IT staff can handle. On the other hand, maybe you are on top of your workloads and their desired state, but cybersecurity is an issue. Perhaps these needs change over time! There could be a regulatory element involved…
The diversity of issues shows how frustrating it can be to manage everything involved in IT operations without help. The ability to pick what kinds of help and IT support companies get is a leading reason firms are looking for B2B partners to provide co-managed IT services.
Benefits of Co-Managed IT Services 
Essentially, co-managed IT services mean you have a backup team with a whole range of specializations, filling in any gaps in your current IT operations.
It's like the old saying, "Two heads are better than one." In so many situations, having an IT backup means the difference between a well-deployed plan and a mess. The extra set of hands helps to ensure the best outcomes during migrations, orchestrating updates, implementing new tools, and managing cybersecurity and cyber risk.
When there's a good partnership and a good fit, those two teams collaborate to knock out any projects or challenges that may arise as the business grows.
A co-managed IT services provider might help with any of the following:
State/local laws that can make compliance very confusing for business owners.

Working with the internal IT team to implement a cybersecurity improvement program and risk mitigation plan

Implementations/adoptions of electronic health records technologies, cyber-resilience strategies, promoting efficient patient interactions

Building the killer IT support team your business needs

An IT Provider confidence with WISP compliance that can help you avoid costly data breaches.
The list goes on—choosing Co-Managed IT services helps with increased productivity, and allows your New Jersey team to focus on core competencies, increased security, and better insight into the current technology landscape.
Why Choose eMDTec For Co-Managed IT?
In helping private firms outsource different aspects of IT, eMDTec has unique experience and thought leadership in co-managed IT services. Going back to the turn of the millennium, eMDTec has been helping partners to reduce risk, optimize software, and strive in their businesses.
This company specializes in helping businesses in most sectors—provider offices, CPAs, Law practices, and much more related departments that need to fine-tune their IT approach and architectures.
That's why so many professional business leaders in New Jersey rely on eMDTec to make sure that their systems are up to date, working properly, and competitive within their field. 
Get connected to a co-managed IT services provider who cares. 
schedule your it plan
Start a Conversation and Learn How Technology Can Transform Your Business?
Reach out today to schedule a meeting where we'll learn about your New Jersey business and create an IT action plan that works for you.
(973) 295-5570
Schedule IT Action Plan